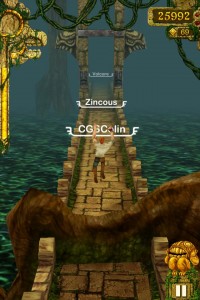 Today Imangi Studios have revealed a screen shot and some exciting new details for the next update of their hit game Temple Run. "In the next update you'll be able to see how far your friends got while playing!" they stated via the game's Facebook page, and later revealed the feature will allow players to turn it on and off via the options menu.
This won't be the only new feature included in the update however, the page has also stated that "This is just *one* of many new features that will be in the next update. We're hoping to get it submitted to Apple tomorrow."
An hour later another status was posted stating the team have been looking for new achievement ideas as well, and even asked fans for their ideas. What incredible fan service!