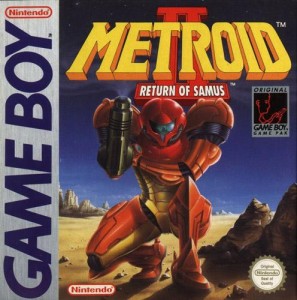 This year has been all about celebrating the birthday of Link as 2011 marked the 25th anniversary for the series. Fans have seen a ton of goodies come their way as well as 4 Legend of Zelda titles have already seen release and more videos and festivities are sure to come in the coming months. As great as Zelda is though, this is also Metroid's 25th, and while fans of that series haven't gotten the same non-stop treatment, they can at least rest easy knowing that Metroid II is finally ready to be released on the 3DS Virtual Console.
Metroid II: Return of Samus released 20 years ago for the original Game Boy and proved to be one of the most iconic cartridges released for Nintendo's successful portable. Nintendo have now announced that as of Thursday, November 22nd, fans will be able to download this sequel on the eShop. Yes, that's just two days away. No official price has been given to this classic, but I would imagine we will see this release come in at $3.99 based on what we have seen put out for the digital platform.
This year hasn't exactly been the biggest or most satifying celebration for Samus, but to me this game is surely enough to make fans giddy to go through all over again. Happy Birthday Samus, we still love you.