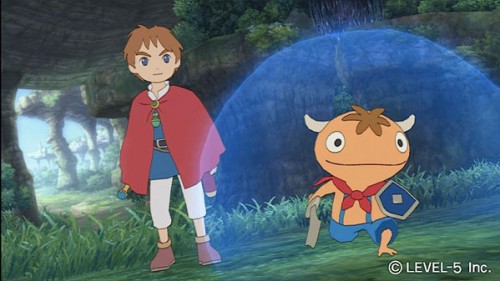 Ni No Kuni: Wrath of the White Witch is creeping ever so closely to its November release date over in the Land of the Rising Sun (Japan). In order to celebrate the game's release, Level-5 has come out and released three videos showcasing cutscenes in the game.
The first video is from the beginning of the game. It is Oliver, the protagonist of the game, having some breakfast with his mother. The second video is Oliver encountering the Cat King and said King speaking to one of his bodyguards (who holds a spear with a fish head) after waking from a slumber. The third video shows Oliver and a young girl in conversation, with what is presumed to be her father intervening.
Ni Ni Kuni: Wrath of the White Witch is slated for a release on November 17th in Japan, which is next week. However, there is no reason to import the game as Namco Bandai will publish the game in the West for a release in 2012.
[pro-player]http://www.youtube.com/watch?v=qrxCaoH0elk&feature=youtu.be[/pro-player]
[pro-player]http://www.youtube.com/watch?v=mJBJl1QhMEQ&feature=youtu.be[/pro-player]
[pro-player]http://www.youtube.com/watch?v=TKO3c96xTko&feature=youtu.be[/pro-player]