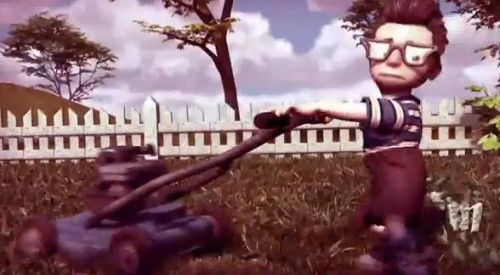 It's that time of the week yet again. Finally gracing the Nintendo 3DS/DS with it's presence is Zordix AB's 1950's Lawn Mower Kids for $4.99. We have detailed the indie mowing sim quite a bit in the past, but these odd yet passionate developers seem pretty content that this is one mowing experience you won't soon forget.
Also on the eShop is Balloon Kid, the Game Boy equivalent to the NES classic, Balloon Fight. This retro gem is priced at a low $2.99. House is back a new medical mystery on the DSiWare in House M.D. – Episode 4: Crashed, which can be purchased for $7.99 and Zelda fans are also in luck as "The Legend of Zelda Main Theme Medley" has been added to Nintendo video, which should be a nice appetizer for Skyward Sword.
Fans of the WiiWare also have some nice Gnomz to chew on this week, with the game "Gnomz" that allows players to battle in 25 arenas and discover magical power-ups, flying elephants, rainbows and glowing reindeer. Interesting concept..and priced at 1000 Nintendo points.
So which one of these titles has your interest this week?