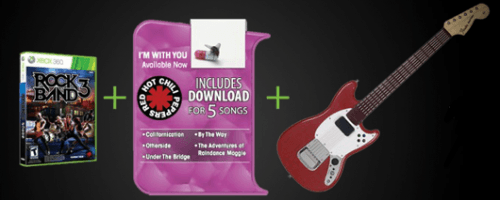 Mad Catz and Harmonix have teamed up once again to produce some plastic instruments to help you get your rock on. These new instrument bundles for the Xbox 360 are available now. Each bundle includes a copy of the game, 5 Red Hot Chili Peppers songs and a different instrument. The three instruments to choose from are the Fender Mustang Pro-Guitar for $150, normal Stratocaster controller for $70, and/or the Precision Bass controller for $80, available in three designer colors.
Unfortunately, there are no drum or microphone bundles available. Will you be getting any of the new peripherals, or will you be using the ones stored in your closet for the time being?
Check out the latest bundles from Mad Catz here.