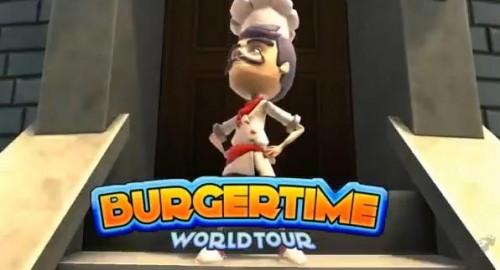 In junction with MonkeyPaw Games Inc, Konami is excited to announce that the release of BurgerTime World Tour today. Available exclusively for the Xbox Live Arcade, BurgerTime World Tour revitalizes an arcade classic with modern graphics and game mechanics.
The reinvention of the classic arcade puzzler offers a unique playing style seen similar on titles like Super Mario Galaxy. With a rotating 3D environment you can expect platform elements such as boss battles to keep players on their toes.
For being a loyal BurgerTime fan, gamers can download a delicious dashboard theme for free as part of BurgerTime World Tour DLC. This kind of customer service only gets better by offering the game for only 800 Microsoft points. Come get your economy burger at the BurgerTime World Tour Website! Check out the XBLA launch trailer below, and see if you can become a top burger chef.