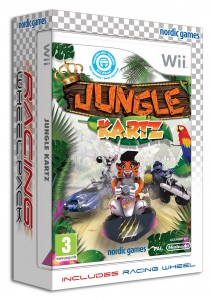 Nordic Games Publishing have revealed that their rainforest racer Jungle Kartz will be hitting Nintendo Wii tomorrow.
With eight environments covering 32 monster tracks including Tropic Bay, Rift River Valley, Ra Desert and more, it's a race to the finish line. Take to the road and race as eight different animal characters, each with a unique special track advantage, including Sass the Tigress, Gus the Gorilla, Rocky the Coyote.
It's designed for players of all ages and features the modes of Quick Race, Time Trial and Tournament. It will even have the option of using the Wii wheel, or Nordic Games' very own Nordic Steering Wheel accessory.