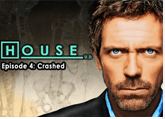 Legacy Interactive have announced the release of Glyphic Entertainment's development, House, M.D. – Crashed for DSiWare. This will be the fourth of five episodes adapted from the awesome medical show, based around everyone's favourite pill-popping, wise-cracking diagnostician.
The fourth episode will revolve around a teenage gymnast's uncontrollable bleeding and features all eight characters from the series. To succeed you have to solve puzzles and beat mini-games to uncover clues about the patient's life and try and discover what went wrong.
House, M.D. – Crashed is now available in the US for 800 Nintendo DSi points, so go grab it and get diagnosing!
For more information on the game and to purchase it go HERE