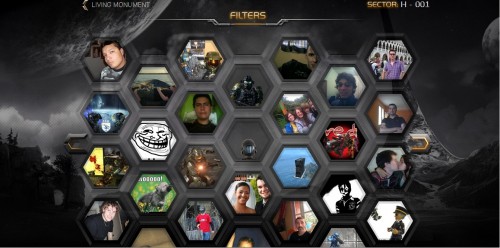 In the lead up to the release of Halo: Combat Evolved Anniversary and the tenth anniversary of the Halo franchise, Microsoft and 343 Industries invited fans to commemorate the event by building a living monument to the hero of the series, Master Chief.
Players can upload their fondest memories of the Halo franchise via a screenshot at HaloLivingMonument.com right now, and their contribution will be seamlessly integrated into an interactive, 3D mosaic of Master Chief which contains images from all the other submissions from around the world. Users will be able to explore the mosaic and rate others' submissions and share them with friends on Facebook and Twitter. Fans can also simply upload a comment about their favorite Halo memory.
But for the fans who do put up a picture, they'll have the chance to see their contributions immortalized in a personalized, love action "Halo Tribute" video meant to acknowledge and honor the fans and the community of the storied franchise.
And they haven't forgotten the local Australian community either, as fans from Australia and New Zealand can go to facebook.com/XboxANZ to unlock a "Service to Halo Award" application. From the app, they'll be able to from over 75 customizable badges to create their own personal halo badges to share with other fans on Facebook.
These awards seem to be just as much humour as fan service, as mentioned in the official press release:
Awards such as Mr. Moon Shoes: For services to the ever prevailing multiplayer strategy of jumping. And making it look like a fine art and Sir Camps-A-Lot: The patience demonstrated in your ability to sit and wait for respawn kills says as much about your character as it does your fine abilities, are just a taste of what's on offer before fans start creating their own tributes to the game.
So if you're a Halo fan, be sure to go check out the website, and immortalize your favorite Halo moment.