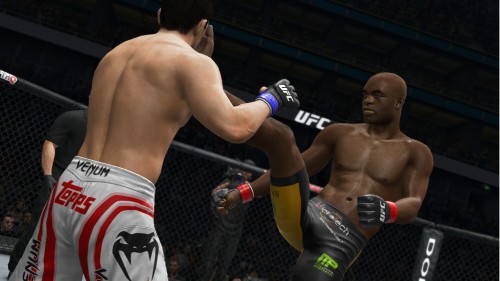 The President of the UFC, Dana White, on behalf of THQ has announced at a Fan Expo in Houston on Saturday that the cover star for UFC Undisputed 3 will be none other then the Middleweight champion, Anderson Silva.
As a result of voting by fans, Silva has beat out Edgar, Jones, Georges St Pierre and Velasquez, the holders of the other weight division belts to take the spot on the cover.
The Brazilian fighter has been hailed by many, including Dana White, as the greatest fighter to ever grace the UFC octagon and it's not hard to see why. Silva holds the record for the longest winning streak and consequent title reign with 14 wins. He boasts an extremely impressive record at 31 wins to 4 losses, the latter of which includes no knockouts.
Check out the announcement trailer below which also shows what the cover will look like. Are you guys happy with Silva on the cover? Let us know your thoughts in the comment section below.