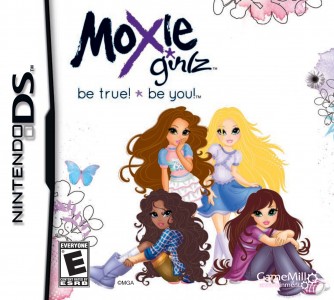 With Christmas coming right around the corner, many developers have been dropping titles to impress the younger gamers in the family as of late. GameMill are of course experts with the little ones, and as of today, parents can now add Moxie Girlz to the Christmas shopping lists. I am sure many of you have heard of the popular Moxie Girlz series, and this Nintendo DS romp will let players interact with the "girlz" in a whole new way.
So what all is in this jam-packed title? Here is a list of features for Moxie Girlz:
Moxie Girlz for Nintendo DS provides hours of fun with thousands of art options and creations awaiting your personal touch! Customize your Moxie Girlz character and express your creativity in Fashion Play mode with dozens of hair styles, accessories and more. Share your deepest secrets and get lost in Journal and Diary Modes, or have fun with friends as you take the Moxie Girlz quizzes to find out which of the Moxie Girlz you and your friends resemble the most. Whether playing alone or with others, Moxie Girlz provides an interactive and encouraging environment where young girls can be whatever they want to be.
Additional Moxie Girlz video game features:
Customization: Pick which Moxie Girlz character you want to be or upload pictures of yourself.
Variety of Modes: Art Play, Fashion Play, Games and more!
Personality Quizzes: Discover the Moxie Girlz character that resembles you!
Picture Fun: Use DSi functionality for picture taking and puzzle games – mix and match!
Positive Message: All modes and gameplay focus on the positive Moxie Girlz message– Be true! Be you!
You can check out the new screenshots below and alert the young ladies in your family that Moxie Girlz is now out wherever video games are sold for just $19.99.