During my many adventures during the Armageddon Expo in Melbourne last weekend I had the great pleasure to listen to some of the musical covers from the band Technodrome.  Doing video game music covers from Pokemon, Zelda and of course everyones favourite the Mario theme.
We sat down with the guitarist Danny Brickwel to talked about the band, how they got together and their plans for the future.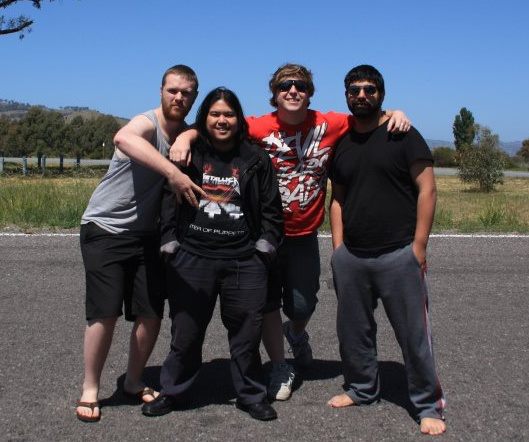 What is the musical background of the band?
Me and all the guys actually met studying a music course at Box Hill Tafe, coming from a jazz background as far as the studying went. The drummer Alex and I are complete metal heads, where our bass player Julio is into jazz, funk and Latin and our keyboard player Chris is into pop punk. It's strange how we seem to gel extremely well together considering we come from very places, which is really cool.
How did the band form?
It started with Alex and Julio just started transcribing some Donkey Kong music just for fun and they told me about it when I was hanging out with them one time and I thought it was really cool. A little while later, this was before Mana Bar in Melbourne opened up, we had a look at their Facebook page and thought if they were having live music there, because that would be really cool. Then the two thoughts came together. We then asked Chris to join and things went from there.
Have you had a chance to play at Mana Bar?
Unfortunately no, being a small cocktail bar, there really isn't room to fit a live band to play.  Although we have some good responses from the expos such as here at Armageddon and from the EB Expo last week in Queensland.
How did you start doing the video game covers?
Well after we got together and decided to do this whole 'band'thing, we just picked some songs and jammed together and it just worked, which we were pleasantly surprised about. From there we put some videos up on YouTube, but we are in a weird position that most of fans are from outside of Australia, mainly in the U.S and United Kingdom, so we are trying to gather more fans here, where we can actually play.
What is the process of taking music from the video games to playing it live?
It really depends on the song, there are a few songs like the Battle music from Pokémon Red/Blue/Yellow that was just listening to the parts, picked which instruments did what parts and then drummer boy doing the beat.  Then there are other songs like our version of Mega man 3 title music, which was a lot more interpretive and we put a lot more of our own spin on it. So it is really a song by song basis. The real challenge is that when the music was created, it wasn't made for real instruments, so the trouble is decided what instrument plays what part.
What is the challenge in playing music that is mostly synthetic?
Again, it's deciding what instrument is going to play what. Particularly when the guitar and keyboard is concerned, it can be hard for some songs because the keyboard would sound really good doing the melody for a song, but the guitar doesn't sound good playing the chords behind it.
What other events have you done?
We actually haven't been around that long, the idea of theband came at the start of the year and we started performing around March. We have been working towards is doing this kind of stuff in regards to the convention circuits. We have actually had some music ripped from out YouTube video and put on the rotation at Mana Bar, which is really cool.
Anything coming up?
Nothing live right now, we are looking more at recording a CD, or album. Hopefully next year we will be at the conventions again.
Check out the guys on their facebook, twitter and their youtube page. A must watch for any video game fans.