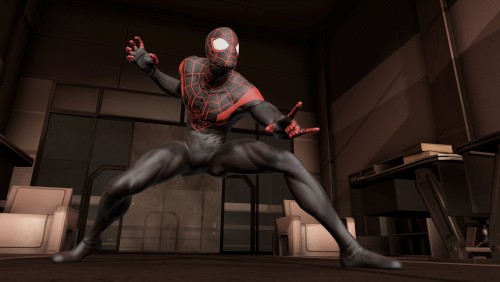 Activision and Beenox are proud to announce the release of Spider-man: Edge of Time into retail stores across Australia. The game boasts a unique storyline in which Spider-man's life is threatened and the only person that can save him is…Spider-man. Play as two different Spideys in two timelines over 100 years apart as you set out to stop the death of Peter Parker.
"Just like with Spider-Man: Shattered Dimensions, Beenox is bringing a fresh perspective to the series with Spider-Man: Edge of Time," said David Oxford, Executive Vice President and General Manager, Activision Publishing.
"Dee Brown and the team at Beenox worked closely with Marvel's own veteran writer and co-creator of Spider-Man 2099, Peter David, on a high-stakes narrative experience where the ultimate challenge is not only to save the world, but also save Spider-Man himself."
The game includes an all-star voice cast, beginning with legendary film star Val Kilmer as Walker Sloan; Smallville and V mainstay Laura Vandervoort as Mary Jane; Battlestar Galactica's Katee Sackhoff as Black Cat; "The Spectacular Spider-Man's" Josh Keaton as the Amazing Spider-Man; and Christopher Daniel Barnes, who voiced the iconic Marvel web-slinger in the 1994 "Spider-Man" series, as the voice of Spider-Man 2099.
"We're very excited to bring Spider-Man: Edge of Time to Marvel fans everywhere," said TQ Jefferson, Vice President of Games Production, Marvel Entertainment.
"Activision and Beenox have managed to pack more fun, excitement and challenge into this game than their previous hit Spider-Man: Shattered Dimensions; and we're eager for fans – both new and old – to dive into Spidey's latest pulse-pounding adventure."