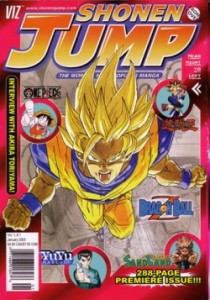 Viz Media has made an incredibly controversial decision to end their print run of Shonen Jump magazine in April of 2012. The magazine which is itself a U.S. version of the massively popular japanese magazine of the same title, has run in the U.S. since 2002, meaning that it will have been a 10 year run next year.
Some fans saw the writing on the walls, when Viz Media announced the magazine was going to change the magazines schedule to lessen releases a year from 12 to 10.
While some fans will be disheartened that the magazine is ending, they will be pleased to know that Viz Media is replacing it with a new version of Shonen Jump titled Shonen Jump Alpha, which will be released entirely digital and on a weekly basis featuring chapters fresh from Japan. Several manga will be featured in the weekly Shonen Jump Alpha, such as: Naruto, Bleach, One Piece, Toriko, Reborn!, Nura: Rise of the Yokai Clan and Bakuman.
What do you think of this shocking news? Let us know in the shoutbox or comments section.