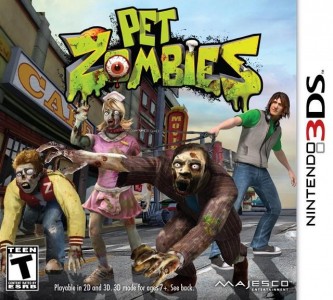 Forget about raising a dog on your 3DS, as Majesco have now released Pet Zombies as of today! This sim of sorts lets players raise and customize their own zombie, manage its diet, and then play various mini-games with your undead pal in beautiful 3D.
Along with this release also comes a list of features:
Raise your very own zombie and manage and control its every need.
Play a variety of mini games: Zombie Launch, Luck of the Dead, Dumpster Dive and more!
Nurture your zombie with tasty treats and toys, or torment them with a torch, shock collar or cattle prod!
Customize everything about your zombies: facial deformations, variable decay, clothing, and un-lockable items.
Unlock themed backgrounds and decor to create the best environment for your pet zombie.
Trigger eye popping gory effects: throw food, drinks, toys or brains with the stereoscopic 3D screen.
Earn badges, Zombucks for use in the pet shop, and unlockables by completing games and gameplay challenges.
This title may be a bit odd, but being different certainly isn't a bad thing and those with a love of the dead can finally have their own zombie to take with them wherever they go. You can now find Pet Zombies in stores where games are sold, so go out and grab your new brain eating friend today!