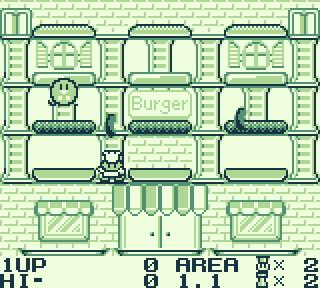 Are you craving a mouthwatering, utterly delicious Virtual Console title to download this week? If so, you will be happy to know that the very addicting Burger Time Deluxe that hit the Game Boy many years ago is now available on the eShop for just $2.99. For those unfamiliar, Burger Time has players take control of chef Peter Pepper as he rushes to drop buns, patties, and toppings onto several plates while avoiding menacing eggs and sausages in the process. This is one of my all time favorite classics of all time and is well worth the low price tag.
Other releases for the eShop this week consist of a new Dreamworks' Thriller recreation, featuring the cast of Shrek on Nintendo Video as well as the 3DS exclusive puzzle/platfomer, Pyramids, for $3.99.
Other DSiWare titles out this week include "Halloween: Trick or Treat" for $7.99 and Academy: Checkers for $4.99.
Those itching for a nice RPG like experience on their Wii are also in luck, as Anima: Ark of Sinners is also now available for 1000 Nintendo Points.
Not a bad week at all and things definitely seem to be picking up for Nintendo Downloads as a whole as we head into the holiday season. Now, back to Burger Time I go.