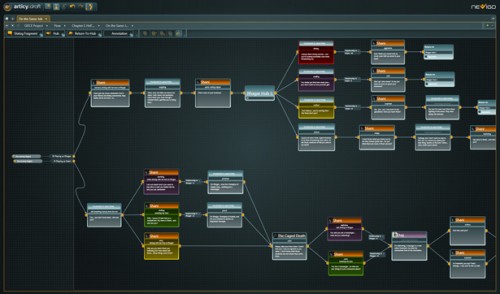 When one plays an RPG or any narrative, they play through a thoughtfully constructed story that would have been typed in Word or handwritten for quite some time. Then that would be translated into the game. It may contain branching paths as well. The interactivity of the game could allow players to experience narrative in a unique way.
Now, would you believe me when I mention that there isn't any dedicated software to map out the story? Well there is now. Articy Draft is the name of the software, created by Nevigo. The purpose of this software is to map out the narrative of the game. Users can map out plots, write dialogue, help design character and even the locations of the game's setting. All of this can be exported in XML.
However, the software is in a closed beta, so selection will be limited. Nevigo released two videos explaining the software and divulging into its features. The first video is below, which is an overview of what to expect from the software. The second video, which goes into character creation, can be found here. There will be more to come. If you want to apply for the closed beta, go to Nevigo's official website.
I am very impressed that someone has taken a stab in the dark with game narrative software. Checking out the videos, I do have to say that this has the potential to become a successful piece of software. Although it is targeted at computer games, this has the potential to expand into other forms, such as film and television. As an aspiring writer, I will say that this will be very useful for creating a grand narrative that I can share with the world.