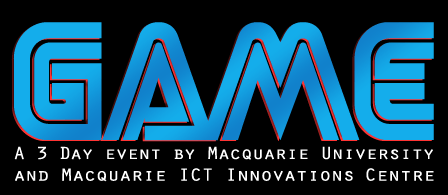 Ok, when do academics of gaming ever meet up? Alright there are conferences around Australia, but Macquarie University (my university) is attempting something that is open to all of the gaming public over three days later this month. Entitled GAME (with a logo that looks familiar), a collaboration Macquarie University's IMI and the Macquarie ICT Innovations Centre, the event will cover the current issues of the gaming landscape of Australia, as well display games from both students and independent developers alike.
The three days all feature different events. Below is the details of the event:
27th October – The Politics of Play
A public debate surrounding the content, classification and effect of gaming on our society. Featured in this debate is Paul Hunt (MLCS Management & Former Deputy Director OFLC), Associate Professor Jeffery Brand (Bond University), and Dr. John Martino (Victoria University). There is the possibility of more speakers. This is one of the two free events and will start st 6:30pm. However, you would need to arrive before 6pm at building Y3A.
28th October – Theorycraft
From 9am to 5:30pm in the Y3A Building, Theorycraft is a one-day conference keynoted by Associate Professor Ian Bogost (Georgia Institute of Technology) and Professor Espen Aarseth (Centre for Computer Games Research, IT University of Copenhagen) to present cutting-edge research into videogames and gaming culture. The day will conclude with a panel discussion of leading academics from different backgrounds to examine and engage with the inter- disciplinary nature of game studies. This is not a free event. Prices are $120 for the general public and $50 for all students (all high schools and universities)
29th October – Family Festival Day
Fun for the whole family and an excuse to explore the campus, the third day will be a festival of innovative gaming experiences led by MacICT's primary and secondary school projects. This festival will include demonstrations of student-made projects and games across multiple platforms including Microsoft Kodu and Kinect and an outdoor ARG built using ARIS. This is a free event.
For more information, visit the website: http://imi.mq.edu.au/game/index.html
If you are interested with the academic side of games, as well as looking at the future, then this is definitely worth going to. Who knows, maybe you might bump into us, as Sydney editors of Capusle Computers, including myself, will be there.