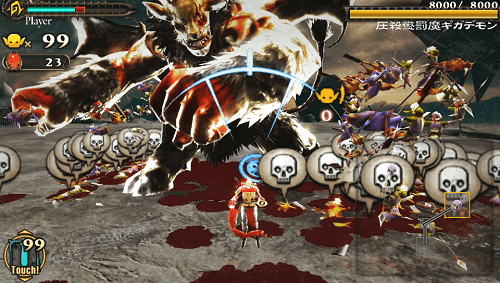 In Army Corps of Hell, the player will control an army of goblin-like characters that are under command of a grand demon. These goblins, like any army out there, have different classes and roles to perform. Square Enix has released three different trailers showcasing three different classes for the goblins.
The first trailer sees goblins as warriors, with small swords and causing some close-combat destruction. The second trailer showcases the goblins as lancers, who seem to be charging into the enemy with pointed spears. The third trailer looks at the goblins as wizards, casting various spells. All classes are distinguished by the colour of the goblin skin. Each trailer is accompanied by a rocking metal soundtrack. A great combination considering the context of the game.
Army Corps of Hell will launch on the 17th of December 2011 in Japan and the 22nd of February 2012 in North America and Europe. It will be a launch title for all regions. For all three trailers, click here for the Warrior, click here for the Lancer and click here for the Wizard.