As we've gone into before nintendogs + cats is the king of high popularity spokespeople, with the RSPCA and Jessica Mauboy on their side. Jessica Mauboy has thrown her support behind the interactive pets game, suggesting it as the best alternative for those of us who live in pet-unfriendly apartments and schedules.
As well as supporting them in speech and video, there has also been a Jessica Mauboy Mii released of her donning Gold Pants. For those of you who are keen to get your Mauboy download on, here it is.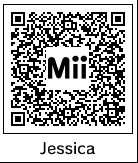 For more information on nintendogs and cats on Nintendo 3DS go HERE.