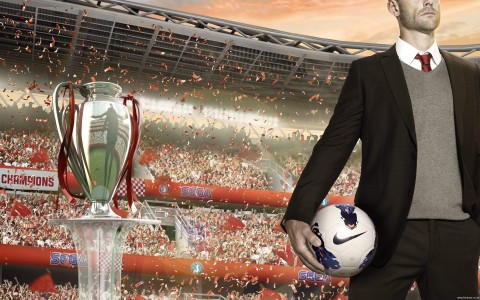 SEGA announced today that the demo for Football Manager 12 is now available for download via Steam for both PC and Macs. The demo will allow gamers to play half of the 2011/12 season, and include all the new features which the game boasts.
The best part of the demo is that you can carry over your half started season once you get the full version, and can just add the extra playable leagues once the game is released on October 21st.
The leagues in the demo include England, Scotland, France, Spain, Holland, Belgium, Italy, Norway, Denmark, Sweden and the most illustrious *giggle* of them all, the A-League.
For full details on how to download the demo head to www.footballmanager.com/demo .
Check below to see the requirements for your computer. Other than that, go and get your season started.
PC Hardware requirements
OS: Windows XP/Vista/W7
Processor: XP – 1.4GHz or Faster, Vista/W7 – 2.0GHz or Faster
Supported Processors: Intel Pentium 4, Intel Core, AMD Athlon
Memory: XP – 512MB RAM, Vista/W7 – 1.0GB RAM
Hard Drive Space: 2GB
DVD-Drive: 4x Speed
Video Card: 128MB
Supported Chipsets – Nvidia FX 5900 Ultra or greater; ATI Radeon 9800 or greater; Intel 82915G/82910GL or greater.
Earlier cards may only display 2D Match Viewer Mode and are not supported.
Earlier cards may require the DirectX 9.0 SDK is installed to run the game. This can be downloaded from the following url: http://www.microsoft.com/downloads/details.aspx?familyid=5493F76A-6D37-478D-BA17-28B1CCA4865A&displaylang=en
Laptop versions of these chipsets may work but are not supported.
Sound Card: DirectX 9.0c compatible
Directx: Version 9.0c (included)
LAN: TCP/IP compliant
Input: Keyboard, Mouse
Mac Hardware requirements
OS: OS X 10.5.8/10.6.8/10.7.x or higher
Processor: Intel Processor
Video Card: Nvidia Geforce 7300 GT or greater; ATI Radeon X1600 or greater.
Note: The game's performance and/or graphical quality may differ according to your computer's hardware and/or video card. Computers with high-performance hardware will provide the best game performance