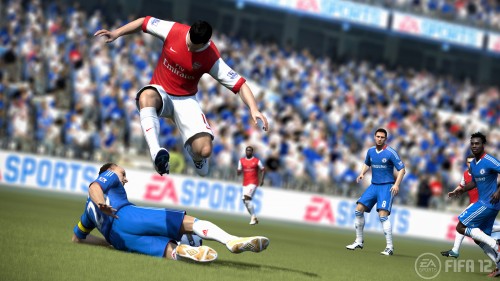 FIFA 12 has blown past Gears of War 3, soaring to the number one spot on the UK sales charts. What's even more incredible is that it has become the third biggest launch title of all time in the UK, succeeded only by Black Ops and Modern Warfare 2, and taking the third spot away from GTA IV.
Overall, FIFA 12 increased launch sales by an impressive 18% over FIFA 11. Unsurprisingly, it was the 360 and PS3 versions that accumulated the biggest share of sales, with the 360 doubling it's FIFA 11 sales and actually beating the PS3 by 10%. The other formats (PC, PS2, Wii, PSP, iOS, Mac, 3DS) collectively accounted for only 2%.
As popular as the FIFA series has been, it's still quite a feat for the title to achieve such success, really setting the bar up high for sports games and definitely showing the PES series who's boss once again.