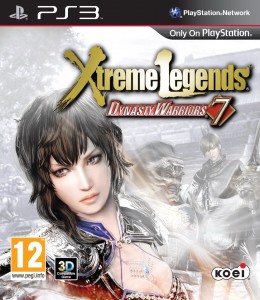 Tecmo Koei are releasing another Dynasty Warriors game, exclusively for the Playstation 3, entitled Dynasty Warriors 7 Xtreme Legends. As the clock ticks closer to the release, Tecmo Koei Europe has decided to share the world the covers of three territories: the United Kingdom, Germany and Australia, all carrying their respective rating. Above is the UK cover.
Dynasty Warriors 7 Xtreme Legends is a re-release of Dynasty Warriors 7 with a few additional characters, four new modes of gameplay (Free Mode, co-op Story Mode, Challenge Mode and Legend Mode) and the MIX-JOY system, which will allow combinations of new modes and weapons with those available in Dynasty Warriors 7. If you have a save file of Dynasty Warriors 7, then that file will be playable in Xtreme Legends. It will also support 3D.
Dynasty Warriors 7 Xtreme Legends has been released in Japan but will see a release overseas. Expect the game on November 15 in North America and November 18 in Europe. It has been rated PEGI 12 in the UK, USK 12 in Germany and M in Australia.