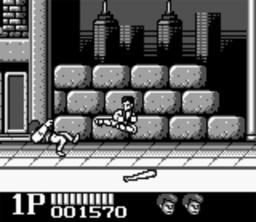 The U.K. and Australia seen Billy and Jimmy's classic Game Boy adventure release months ago, and Now Nintendo have finally brought the gem to North America's eShop for the price of just $3.99. If you have played the NES version in the past, this 1990 release should feel familiar as it is basically the same game but with new level designs and a few different techniques from the henchmen in the game.
For 500 points, the RTS/RPG hybrid, Castle Conqueror is also available this week on the DSiWare service. Finally, those who enjoyed last week's Dreamworks Animation "Night of the Living Carrots: Part 1" will be delighted to know that Part 2 is now up on Nintendo Video. Those who really enjoy these shorts will probably be interested in the "DreamWorks Animation Halloween Collection", which puts "Night of the Living Carrots" alongside two other quirky flicks for the price of $1.99 where the user can keep their flicks forever.
The Wii has just seen one release on the WiiWare this week, with the outing of the "Match-3" puzzler, FishTank.