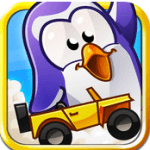 Really cute penguins? Check. Saving cute sheep from still cute wolves? Check. Really cute penguins driving a jeep to save cute sheep from still cute wolves? Well, now that's just the perfect iOS game formula.
Crazy Escape follows purple penguins Cutlet and Mishmash as they make some daring driving moves to save sheep from wolves. Where are the farmers for the sheep? Who knows! Why are penguins, sheep and wolves sharing a range of environments that at least one would be uncomfortable in normally? Who cares!
Crazy Escape has over 90 levels set in a range of terrains and you need to maneuver your Jeep fast enough to avoid the wolves but not so fast you spin out and lose control.
So what are you waiting for? Go help them out!
Crazy Escape is available now on iTunes for $0.99 – BUY NOW