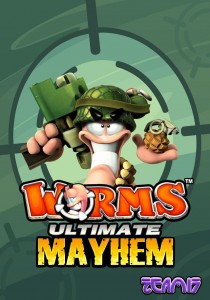 Fresh from the Team 17 factory comes Worms Ultimate Mayhem, which will be available for download on Xbox Live Arcade and Steam from today. The title is said to be a HD reimagining of Worms 3D and Worms 4: Mayhem, using highlights from those forays into 3D for this digital collector's edition outing for the gun-toting scamps. It will have improved high-definition visuals, comes complete with 60 single player missions, challenges, 12 graphical themes, 38 weapons and utilities, full online play for up to four players and plenty of customisation options for your worm and game experience.
To celebrate the launch, Team 17 have released the 'Enhancements' trailer, a look at ways in which Team 17 have spent the last year in development creating Worms Ultimate Mayhem.
Worms Ultimate Mayhem costs 1200 Microsoft Points on Xbox LIVE Arcade, and £10.99/€12.99/$14.99 for PC from Steam.
To buy on Steam click HERE. Or you can purchase it on Xbox Live Arcade HERE.