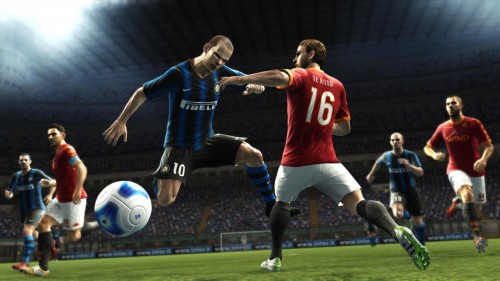 Konami have just released PES 2012 in the Americas for PS3, Xbox 360 and PC, featuring Cristiano Ronaldo and up and coming Brazilian starlet Neymar as the cover stars.
"With every edition of Pro Evolution Soccer, we set out to provide an unparalleled gameplay experience," said Shinji Hirano, President of Konami Digital Entertainment, Inc. "Pro Evolution Soccer 2012 keeps to our long-standing tradition of giving users the intensity of real-life soccer with cutting-edge graphics and controls."
This year's PES goes further in giving total control to gamers, offering numerous gameplay additions and enhancements. A key development this year is the Active AI system, which places a lot of pressure on teammates to work together and make sure they hold their line defensively. Attacking wise, AI controlled teammates will make dummy runs, draw defenders and give players many more options to start an attacking movement.
The release of PES 2012 has undoubtedly kicked off the comparisons with it's competitor FIFA 12, which was released yesterday across America and has set the bar pretty high for Konami. It's going to be very interesting to see how the two compare, and also see who gets to take home the proverbial cup this year for football gaming.