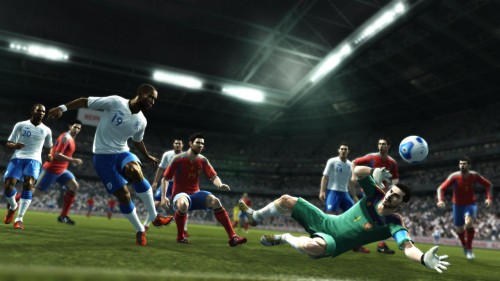 Konami have released extensive detailing of the online mode for PES 2012, which hits Australian stores in two weeks time (October 13th) and was released in the Americas earlier this week.
Some of the newest additions to the online experience in the Master League of PES for the upcoming release include the ability to alter team styles, the introduction of contract periods, and increased more realistic injuries and fitness management. Facebook functionality is another new feature under "myPES", allowing results to be shared amongst friends including league tables.
PES 2012 online will allow up to eight players to link up on PS3, 360 and PC, and as a means of enhancing this, Community Mode has been improved, giving users a wider pool of opponents to play against with up to 100 users able to join a Community group. Inter-community matches have also been added to add further depth and rivalries.
"Online is a key element to PES 2012 and we have worked hard to deliver options that enhance both the competitive edge of the game, and that bolster the solo modes in Master League Online," commented Jon Murphy, European PES Team Leader for Konami Digital Entertainment GmbH. "PES 2012 is all about skill, playing a team's strengths and flowing football – who wouldn't want to share that with their mates!"
One final addition which was announced to accompany the launch of PES in America was the creation of www.canyouplaypes.com, featuring vignettes from renown referee Roberto Roberto Roberto, conveying the PES Code of Conduct as a way to maintain the integrity of the game. Additionally, the website will have UEFA Champions League and Copa Santander Libertadores news feeds, PES 2012 trailers and regular updates on PES news and events.