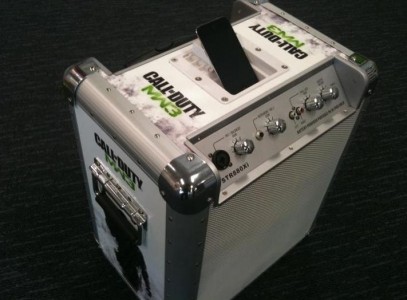 Modern Warfare 3 is now just around 5 weeks from release, but EB Games have taken to their Facebook page to hype the upcoming blockbuster even more. EB Games Australia posted the picture you see above today along with the comment:
Deafening, blaring, booming, ear-splitting Modern Warfare 3 announcement coming this Wednesday! Keep your ears open for this one..
Now obviously, what you see above is a custom made amp featuring the art from the latest Call of Duty, which also includes an iPod/iPhone dock at the top. It is a bit of a bizarre accessory, but this could very well be the big "prestige" item that fans have been hoping for. This could also just be signifying that a digital soundtrack might be given as a pre-order bonus as well, so there is still plenty of room for speculation.
Either way, stay tuned and once the big reveal is made, we will be sure to bring you an update.
So what do you think this announcement would be? Are you impressed by the amp? Leave a comment below to tell us your thoughts.