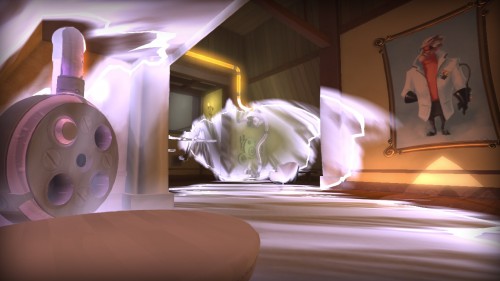 Today at PAX Prime, Square Enix and Airtight Games revealed that not only are they working together to create a game known as Quantum Conundrum, but that they are also working together with co-creator of Portal Kim Swift. In the game you have a genius uncle named Professor Fitz Quadwrangle who is an avid and eccentric inventor, problem is that some of his inventions work too well.
Your uncle has been trapped in another dimension and the only way to save him is using his newly designed Inter-Dimensional Shift device to explore his puzzle filled mansion. The device allows players to switch dimensions, between the normal world and a fluffy dimension that makes everything into soft and fluffy versions of themselves. This means that everything in the fluffy dimension is extremely light, which means you can maneuver puzzle items much easier in this mode.
Quantum Conundrum will be released as downloadable title on the PS3, 360 and PC early in 2012. To go along with this announcement Square Enix also revealed the below trailer for the game which just screams Portal puzzle mechanics.
[nggallery id=357]