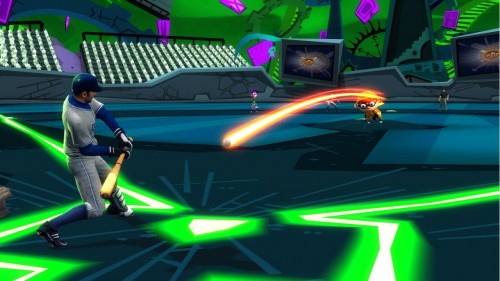 I have never been one to actually enjoy the sport of baseball, or really any sports games for that matter aside from the Mario fare. Oddly enough, 2K Play's Nicktoons MLB has my attention as it looks bizarrely beautiful due to the mixing of professional Major League Baseball players with new and old Nicktoons characters. Today, 2K Play dropped a lot of new info for the game, revealing the stadiums and cast of Nicktoons that will be featured within.
Check out the full list:
SpongeBob SquarePants – SpongeBob SquarePants, Patrick Star, Larry the Lobster, Sandy Cheeks, and the Flying Dutchman
Avatar the Last Airbender – Aang, Katara, Prince Zuko and Toph
T.U.F.F. Puppy – Dudley Puppy and Kitty Katswell
Planet Sheen – Sheen, Nesmith and Ultra Lord
FanBoy and Chum Chum – Fanboy and Chum Chum
Danny Phantom – Danny Phantom
Invader Zim – Gaz and ZIM
Ren and Stimpy – Ren Hoek, Stimpy, Powdered Toast Man and Yak

Additionally, Perch Perkins from SpongeBob SquarePants and GIR from Invader Zim will take residence in the announcer's booth, as Nicktoons MLB commentators.
Baseball of this caliber can't be played in a sandlot, so Nicktoons MLB features a unique mix of 12 authentic and out-of-this world ballparks. Iconic locations include Wrigley Field (Chicago Cubs), Fenway Park (Boston Red Sox), Yankee Stadium (New York Yankees) and Dodger Stadium (Los Angeles Dodgers), along with the home fields for last year's World Series teams, AT&T Park (San Francisco Giants) and Rangers Ballpark in Arlington (Texas Rangers). The fantastical Nicktoons stadiums range from the underwater Poseidome (SpongeBob SquarePants) to the frozen Frosty Freeze Field (Fanboy and Chum Chum), as well as Air Temple Courtyard (Avatar: The Last Airbender), Yolkus Stadium (Planet Sheen), Ghost Zone Field (Danny Phantom), and IRKEN Field (Invader Zim).
Powered Toast Man as a playable character in a baseball game. Just brilliant. I grew up with a few of these toons, so the nostalgia card and the polish Nicktoons MLB displays are definitely working their magic for myself, but honestly I can see this title being hugely popular with kids of today in general. Nicktoons MLB launches September 13th for the Xbox 360 (with Kinect support), Nintendo Wii and Nintendo DS. Check out the new screens below and let us know what you think of Nicktoons MLB in the comments below.