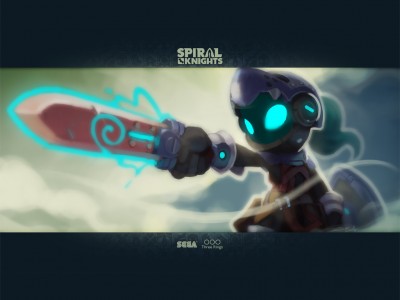 As of today, Sega's free-to-play fast-paced adventure game, Spiral Knights, has grown to one million player accounts world wide. With its official launch in April, and joining the Steam distribution service in June, it's impressive to see so many people joining up in such a short time. I am glad to say that I myself have contribute to the one million fans and look forward to the updated content which Sega and Three Rings have accounced to honour the momentous occasion.
The development team is nothing short of extatic in this huge achievement. "During development, we hoped Spiral Knights' classic action, handcrafted art, and co-operative nature would appeal to gamers of all stripes, and reaching this milestone is confirmation of our vision for the game," said Daniel James, CEO of Three Rings. "Seeing a million eager knights forging ahead into the Clockworks, building guilds and our game community, is gratifying for our entire team." The team at Sega and Three Rings can be sure to see a million more players in the near future.
From today, Spiral Knights' can explore the latest dungeon located deep within the Clockworks, Ironclaw Munitions Factory. Gremlin enginners have recenlt banneded together to develop a weapon of incredible power know only has Project Roarmulus. Uniting together, Spiral Knights will need to set on a harrowing quest through the complex's destructive devices in order to put an end to this horrible project. To help the Knights on their way there are a number of new weapons, including the Polaris and Supernova guns to help ensure success. Don't fret if you were not one of the first million, there are sure to be another million members joining in the future, one of which can be you.
Spiral Knights is free to play for both Mac and Windows. You can find more information at the offical website or at Steam. Be sure to check it out.