Continuing my achievement challenge announced early on in the month http://www.capsulecomputers.com.au/2011/07/jacks-achievement-challenge-a-game-a-month/ (but discretely worked on since December 2010) whereby I am completing one game's achievements fully to add it to the 100% complete list. I am pleased to reveal this month was a success and continues the run of progress, bringing the total up to 8 months in a row.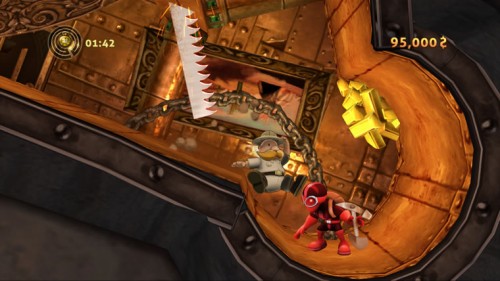 For once, the challenge was under control since the month began, with a calm and collected planning to fully complete last year's Xbox Live Arcade title 'Lazy Raiders' from scratch. There was no last minute scramble to fully obtain all achievements in a game during the closing days of the month like the last two months. There was a steady progression as I worked my way through the levels of this puzzler which has you spinning the level around your character in order to slide and drop him into treasure, before finally unlocking the last one to see out July 2011 of this task.
This means that, with this latest completion, the list stands 8-strong for the 8 months I have been partaking in the challenge. Here's how the list stands now:
December 2010
Harm's Way 200/200
January 2011
Faery: Legends of Avalon 200/200
February 2011
Spare Parts 200/200
March 2011
Fist of the North Star: Ken's Rage 1000/1000
April 2011
Doritos Crash Course 200/200
May 2011
Ghostbusters: Sanctum of Slime 200/200
June 2011
TRON: Evolution 1000/1000
July 2011
Lazy Raiders 200/200
Let me know if you have any suggestions of games I could get the full achievements on. I'd love to hear your opinions on my progress, perhaps which games you've been earning achievements on this month, and which games you have the full gamerscore for.