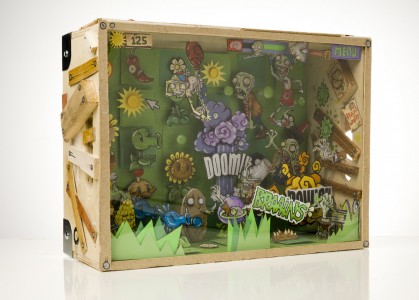 PopCap's Charity Art Auction has begun its second week, and as such, a new set of nine original art items are up on their eBay page now.
If you're as rabid a Plants vs. Zombies fan as I am, you'll want to save up your sunshine for this week's auction. Amongst the amazing PvZ items are a ceramics set featuring some key zombies and plants, a Peashooter costume, more concept sketches from PvZ, Bookworm and Zuma's Revenge, and this week's centrepiece: a Plants vs Zombies diorama, titled "Final Wave", depicting the craziness of the later zombie waves, beautifully drawn, layered and presented in a wooden box. It looks amazing, and I want it. So nobody bid, it's mine. I'm serious.
Have a look at their eBay page for images of what's up for auction, or there's a video below describing the items in detail. And remember that all proceeds are going to SpecialEffect in the UK and the Starlight Children's Foundation in the US.