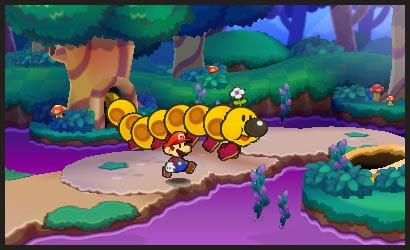 Nintendo has announced at their E3 conference that Paper Mario will be folding itself into an upcoming 3DS game. The game itself appears to be a cross-between Super Paper Mario for Wii and the critically acclaimed Paper Mario 2: The Thousand Year Door for the Gamecube.
Mixing the platforming of Super Paper Mario with the RPG elements of Paper Mario 1 and 2, Paper Mario 3DS looks to provide one hell of a gaming experience.
The series itself stands apart from other Mario games with it's quirky gameplay and paper-like art style. Fans of the series have eagerly anticipated a return of the RPG element of the series after a somewhat disappointing outing in Super Paper Mario for the wii and it seems that Nintendo has listened.
We do not have a release date as of yet, but we thus far have an excellent trailer to keep you from tearing up with anticipation. Check it out below.