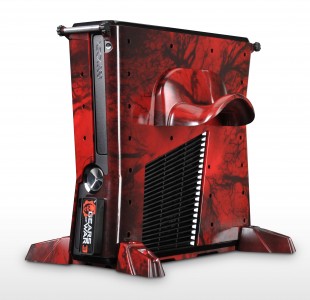 Calibur11, makers of the unique 'Vault' cases for Xbox 360, have announced a partnership with Epic Games which will see them release a Gears of War 3 Vault to coincide with the release date of the much anticipated third instalment in the Gears of War series.
The 'Vaults' promote improved air-flow, a durable protective casing which, on top of protecting it from knocks, makes a vertical-standing console more stable, a design that includes storage space for controllers, as well as bold aesthetic themes. The Gears of War 3 edition Vault incorporates all this but has a few added bonuses of its own. It's an interactive case in the way of a high-definition "Bleed-Out" finish and an LED Crimson Omen that glows red every time a player is downed by an opponent.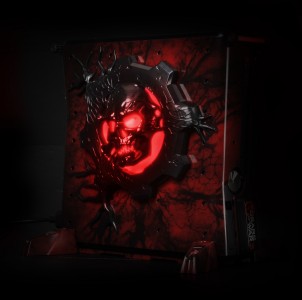 Something this luxury doesn't come cheap, but it looks to be an ideal present for any self-proclaimed Gears-fanatic. Calibur11's Gears of War 3 Vault for Xbox 360 Slim will be available  from a select group of online retailers in September for a suggested retail price of £74,99. Customized nameplates will carry a suggested retail price of £17.99.