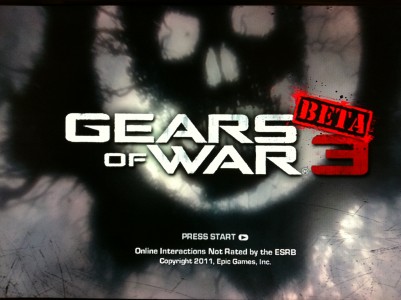 The Gears of War 3 beta has been available for those with codes for quite some time now, and recently BulletStorm owners were allowed in on the action when it was opened up for them. But now, many people are having friends who don't have BulletStorm or couldn't obtain a code feeling left out…until now. Epic Games are running a promotion known as 'Never Fight Alone', giving you the opportunity to earn up to five codes to distribute to friends so they can join in on the action (at least it's 5 if you're in the US – for others you can receive a maximum of one for completing one of the challenges).
It sounds like a great way to get friends involved. Will anyone be making use of this offer? Who has completed which challenges so far?
What is the Gears of War 3 beta Never Fight Alone program?
Starting today, everyone who's played at least one game in the beta will have a chance to receive a "buddy token" to share with a friend on Xbox LIVE, giving them access to the "Gears of War 3" beta.

In the U.S., beta participants can earn extra buddy tokens by completing the following tasks or challenges (one token for each task), with a chance to earn up to five tokens total:

• Purchase any "Gears of War" content from Xbox LIVE Marketplace (including a "Gears of War" Game Add-on, a "Gears of War" Games on Demand title, or a "Gears of War" Avatar item)
• Play 20 or more hours of the "Gears of War 3" beta (any time already spent in the beta will count toward this challenge)
• Add a 12-month Xbox LIVE Gold subscription to your existing account (purchased from retail or online)
• Play more than 100 hours of any "Gears of War" title, lifetime to date

** Multiple token chances are limited to U.S. residents due to legal restrictions; however, every beta participant worldwide has a chance to unlock one buddy token to share with a friend on Xbox LIVE.

How long do I have to earn extra beta keys?
Players will have until this Wednesday, May 4 to complete the challenges and earn extra buddy tokens.

What do I do after I've completed the tasks?
The Xbox LIVE team at Microsoft will automatically keep track of everyone's progress, so players won't need to take any additional action to retrieve their tokens.

After completing the tasks, when and where do I receive my extra beta keys?
The buddy tokens will be distributed via e-mail starting May 8 when the "Never Fight Alone" phase begins, giving beta participants and their friends a full week to enjoy the multiplayer mayhem together.

What maps and modes will be available during the "Never Fight Alone" period?

New players entering the beta on May 8 will have a chance to cross chainsaws with their buddies in three new "Gears of War 3" competitive modes (Team Deathmatch, Capture the Leader and King of the Hill) on four stunning multiplayer maps (Thrashball, Checkout, Trenches and Old Town). Additionally, beta recruits can unlock an array of exciting content such as exclusive medals, weapon skins and character variants like the fan-favorite Thrashball Cole, which they can carry over to their retail copy of "Gears of War 3" when it launches on Sept. 20. For additional details, please refer to the official Epic Games FAQhttp://forums.epicgames.com/showthread.php?t=767359.