With the Gamestop listings for both Cooking Mama 4 as well as Camping Mama: Outdoor Adventures leaking a few weeks back, Majesco have now confirmed both games for a fall release. While these two announcements were expected, Majesco have went even further to actually throw out some details for each title. Camping Mama: Outdoor Adventures will be exclusively released on the Nintendo DS, and Cooking Mama 4: Kitchen Magic will mark Mama's 3DS debut.
For Camping Mama, here is a bit of what players can expect: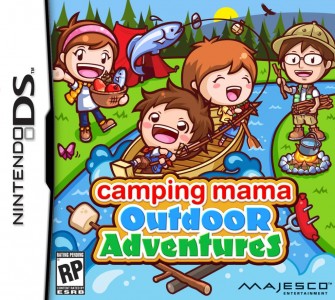 Mama develops her wilderness skills in Camping Mama: Outdoor Adventures that features 100 different stylus based games across a broad range of challenges: craft a fishing pole, use it to fish then cook your catch; capture wild chickens for a tasty egg breakfast; set up your tent; collect exotic insects and much more. Both girls and boys can enjoy fun outdoor activities like rock climbing, spelunking, rowing and tree climbing as they navigate 38 different levels that span forests, mountains and seas. Would-be campers can choose to play as either the son or daughter with Mama or Papa providing guidance depending on the challenge. With customization options and collectible play, Camping Mama lets everyone go wild in the great outdoors!
Notice that fellow in the boxart with the glasses? In Japan this title was called "Camping Mama + Papa", so this series could very well begin to branch out even more with spin-offs as Majesco have also confirmed three additional cross-platform Mama skus planned for 2012 (although that is just some speculation for now). The actual gameplay for Camping Mama though sounds rather interesting and with all of the locations listed, this could very well be the biggest DS release yet for the series.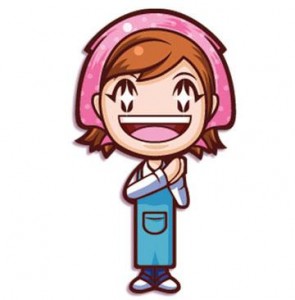 For even more Mama love, Cooking Mama 4: Kitchen Magic! also received some new details:
Join the original digital chef as she makes her debut on Nintendo 3DS with Cooking Mama 4: Kitchen Magic! From new recipes and ways to play to fresh kitchen activities and dish combinations, the iconic kitchen cutie has some tricks up her sleeve that will magically transform kitchen newbies into master culinary artists! Slice, dice, knead, toss and flip your way through more than 200 unique Touch Screen mini-games as you cook in brand new ways with the Nintendo 3DS gyroscope: crack eggs, flip pans, balance plates and much more. Earn bronze, silver and gold medals while mixing up over 60 recipes that range from side dishes to full meals. Organize, decorate and clean your kitchen while watching surprising 3D events unfold as you prepare each meal.
While I expect to see more of the basics with this title, the idea of using the gyroscope to perform tasks sounds like it will offer some rather refreshing elements to the game. When news Cooking Mama 4 was leaked, I was rather curious of just what the 3D effects would be and even though this small bit of info doesn't fully elaborate other than the mention of "surprising 3D events", it does seem to be a very prominent feature that will hopefully deepen the overall experience.