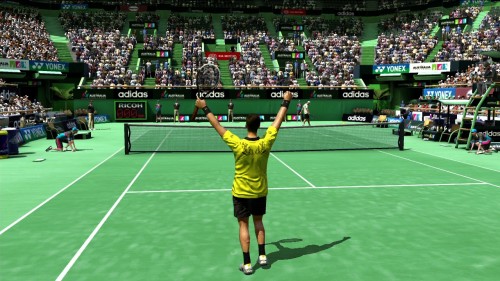 With the Xbox 360 & PS3 versions of Virtua Tennis 4 just four days away from hitting the U.K. and Ireland, Sega are offering a new contest to celebrate. This contest in only available to residents in the U.K and Ireland and will have quite a prize package for the victor which includes a copy of the game, a Virtua Tennis 4 branded cap, drink bottle, t-shirt, key ring, sweat band, and a stress ball. A nice collection of swag if I do say so myself.
Now how can you get in on this contest? Simply answer a few questions that will be randomly be posted on Sega or Virtua Tennis' Facebook pages and send in an email to VirtuaTennis4@sega.co.uk or SEGAVT4@sega.co.uk depending on which page asks the question. A winner will then be drawn from the correct answers given.
Sega have posted a list of rules and instructions on their blog, so to make this easy, here is a rundown on qualifications, times, and a full list of instructions:
(1) Description of Prize Draws SEGA Europe Limited (the "Sponsor") is offering a "Prize Giveaway", (the "Promotion") and will award prizes via a random selection from eligible entrants. The Promotion is conducted as a question competition ("Competition") taking place on the following schedule: the Competition begins at [4.00pm] British Summer Time ("BST") on [Tuesday 26 April 2011] and concludes at [5.00pm] BST on [Thursday 28 April 2011], ("Competition Period").
(2) Eligibility – The Competition is open to legal residents of The United Kingdom of Great Britain and Northern Ireland (England, Scotland, Wales and Northern Ireland), who are [18] years of age or older. Competitions are void anywhere it is prohibited by law. Any entrants who are not eligible for the Competition can be disqualified at the Sponsor's discretion. Employees, officers and representatives (and members of their immediate families and those living in the same household of each) of the Sponsor, its parent, subsidiaries, affiliated companies, advertising and promotion agencies, and any other company involved in the design, execution or production of this Promotion are not eligible.
(3) How to Enter – To enter the Virtua Tennis 4 Facebook page Competition [Email your entry to VirtuaTennis4@sega.co.uk]. To enter the SEGA Facebook page Competition [Email your entry to SEGAVT4@sega.co.uk]. You can only enter each Competition once in order to be eligible to win a prize from the Sponsor. Entries received for a given Competition are eligible only for that drawing and will not be "rolled forward" for inclusion in any subsequent Competition.
(4) Prize – The Competition will have, [an overall winner] winner will be randomly selected from eligible entrants to receive [–a copy of the game, a Virtua Tennis 4 branded cap, drinks bottle, t-shirt, key ring, sweat band, stress ball]. The odds of winning depend upon the number of eligible entries received for any given Competition.
(5) General:
(i) Winners will be selected in a random drawing conducted approximately three (3) business days after the ending date of each Competition Period. Potential winners will be contacted within two (2) business days of the drawing by the e-mail address associated with their Registered User account to confirm prize acceptance and determine a mailing address for the prize. Potential winners will have five (5) business days to respond to the prize notification e-mail with the requested information. Failure to respond within this time frame will result in disqualification and the selection of an alternate winner. Return of prize notification e-mail as undeliverable will result in disqualification and the selection of an alternate winner.
I know we have plenty of readers from the U.K. and it would be awesome to see one of you take the whole thing so be sure to "Like" both pages on facebook and get ready for this competition to begin!