Jean-Karl Tupin-Bron, Game Designer on Top Spin 4, has recently sent us over a copy of his developer diary #6 which details the World Tour component of the game Top Spin 4.
The World Tour mode is open to any player-created character and is basically a ranked mode, with players scores accumulating over the course of a week with the best being ranked number 1. At the end of each week the scores are reset and the best players are marked as the season champions. As with real tennis, there are separate seasons for each gender. So male characters would have their own season and female characters also have their own season. In the World Tour game mode, players will still be able to accrue XP, unlock new coaches and increase tennis strategy levels.
Each season has Seven Tournaments, 4 Major Tournaments and 2 Master Tournaments and a Grand Slam. Each Season always ends with the Grand Slam event. Each Tournament can only be played through once per season, so make sure you win as losing will yield no extra chances. Tournament matches are also worth the most points for your character, so it is highly advised that you partake in all the tournaments each week in order to maximise your score. Apart from tournaments there are also regular events, such as Sparring Partner Training and Quick Matches.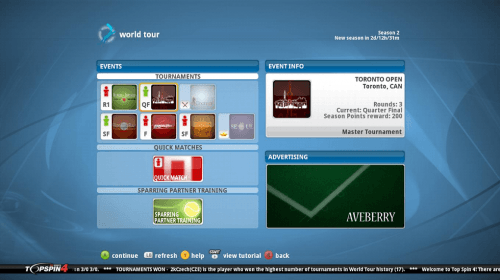 Tournament Events.
Quick Matches earn you a little bit of points per season but not as much as tournaments would. The upside to these is that you can just keep playing them without any kind of maximum playable restrictions. Quick matches are one set of three games, much shorter than tournament matches.
Event Information.
The Sparring Partner Training is a way to gain XP online without facing any human opponents. You train against AI players to increase your personal skill and your characters XP. It doesn't look like this mode would increase your overall ranking score though.
Top Spin 4 also features a player lobby of sorts to facilitate in the match finding process. The lobby has a news bar at the bottom of the screen which shows information to all players, information such as: who the current champions are, player scores, how your friends are doing and things like that. There is also a history section that allows you to check the stats of any player on the rankings board. But that's not all that there is, there is also a chart that shows the amount of each players searching for a game in each gametype. Having a hard time finding an opponent, switch to a gametype with more players.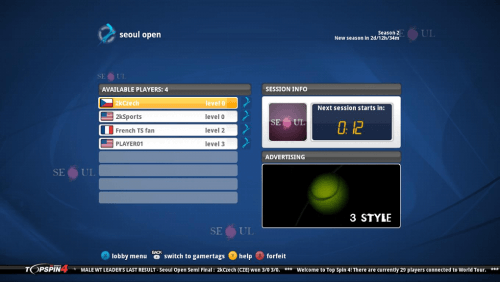 Match Lobby/Match Starting.
Visit the Official Website for more information.