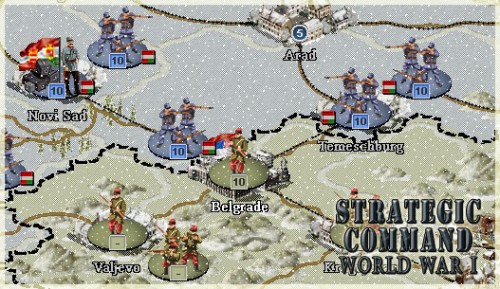 Strategic Command World War One 1914-1918, developed by Fury Software, was released earlier today and accompanying this release comes two demonstration versions of the game.
The first demonstration version includes three campaigns and is trial-able for a three-month period (only through August to October apparently), whereas the second demo is one mini campaign which also has a map editor included.  There is a multiplayer version in the full game, but, is locked out in the demo version.
Hardware/Software Requirements

CPU: 1 GHz Processor or better
RAM: 512 MB or more
OS: Windows XP/Vista/7
DirectX: 7 or higher
Video Card: 128 MB with 32-Bit Color supporting at least 1024 pixels in height and 768 pixels in width, or better
Sound Card: 16-Bit DirectSound compatible
CD-ROM: 8x or better (not needed for download version)
HD: 1.2 GB free Hard Disk space
The game is available for purchase now at digital and physical versions for ~$45 and ~$55 USD.
Check out the Official Website.