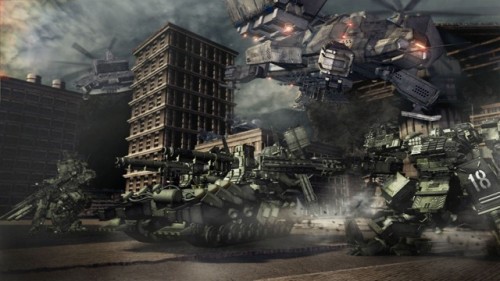 Earlier we mentioned that Namco Bandai is going to publish From Software's Dark Souls when it arrives later this year. Now From Software and Namco Bandai's partnership doesn't end there, as they will be also handling the publishing for Armored Core V when it is set to ship to the US and Europe in the early months of 2012.
Armored Core V is said to be focused more around online multiplayer where fighters will form teams with each other and attempt to capture enemy bases. Rather than not allowing players to jump into already running games, the From Software team is now implementing a feature that allows players to jump in and wait for the match to finish so they can instantly begin the next round.
The online multiplayer isn't the only feature either, as the single player mode will also combine elements of the online multiplayer by allowing players to continue their battles in single player mode if all of their friends leave them before the battle is over. Now Armored Core V has entered the stage where being an easy to play online mech game is the priority. We'll find out more as the months go on.