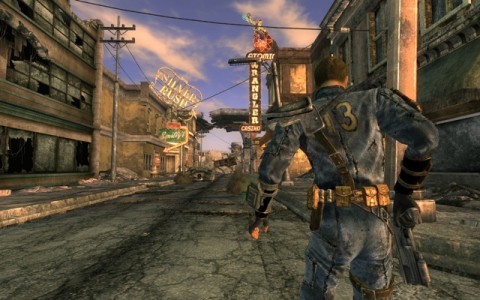 With Fallout: New Vegas only a month from hitting shelves Bethesda has been releasing developer diaries to give everyone a sneak peak of what is different between New Vegas and 3. Obsidian themselves are giving us a peak in this diary of the new Technology we will be seeing as well as the sounds we will be hearing in the Mojave Wasteland.
They cover the fact that many things you will be seeing have either been re-tooled or designed from pre-war technology and has a very unique feel to how guns were handled in Fallout 3. Such as some energy weapons having recharging energy cells as opposed to re-loadable ammo of more understandable guns. Such as a machine gun that launches grenades….. Also we see how the sounds will occur in the desert with a bit of gameplay footage demonstrating the echoes of gunfire in the desert.
Catch the video below and be ready to survive the wasteland again on October 19th in the US and the 22nd everywhere else.