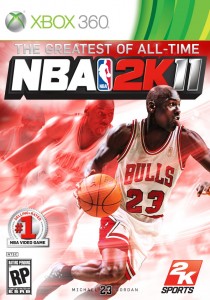 Being from Chicago, I loved when Michael Jordan played for the Chicago Bulls and lead them to a dominating spree of NBA Championships, only broken up when he took a brief stint in playing baseball for the Chicago White Sox's minor league team. Now 2K Sports has decided to put up their cover athlete and it is no one other than his airness Michael Jordan.
It may seem a bit odd to some that his tongue is literally hanging out in the picture they used for the cover, however it is one of Jordan's trademarks. Any time in which he would be dunking the ball or playing heavily, he would put his tongue out.
Though it may be over a decade past his retirement he is finally gracing the cover of one of the most critically acclaimed basketball series to date, and you can catch the next iteration of 2K Sports 2K11 on October 5.