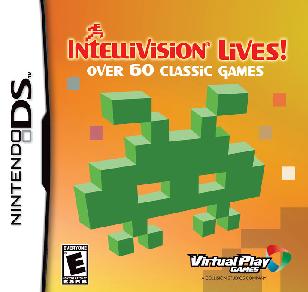 It's hard to believe that this is now the 30th anniversary for the Intellivision. The console released nearly 125 games in it's lifespan and went on to sell over 3 Million units. Virtual Play Games is now going to share the retro love with all of us as they are bringing us over 60 games packed into one cartridge for Intellivision Lives! for the Nintendo DS.
I still remember playing the console and losing hours into Burger Time alone. A few games set to be released in this truly epic compilation are Astrosmash, B-17 Bomber, Shark! Shark!, Motocross, Space Cadet, Thin Ice and many more. For the nostalgic players, they will recognize the 12 button key-pad displayed on the screen that made it so easy to play. The game also features games not released at the time of its original launch as well as Head-to-Head local wireless game play.
Virtual Play Had this to say about the new title:
"Virtual Play Games is very excited to bring Intellivision Lives! to a broader audience at a time when both adults and kids are enjoying casual games even more than ever", said Virginie Grange, Business Development for Virtual Play Games.
"2010 being the 30th anniversary of the Intellivision console, I'm looking forward to seeing how many new fans will discover Intellivision thanks to this DS version. The Nintendo DS is the perfect platform for the classic Intellivision games", said Keith Robinson, Owner of Intellivision Productions.
Collections have been released in the past, but now we are getting one for the Nintendo DS which is better for people who are on the go which in my opinion is perfect as the games have always been easy to pick up and play. Intellivision fans everywhere rejoice! We now have a brand new collection with a great set-up to look forward to. Intellivision Lives! will release this September. For more information, check out www.virtualplaygames.com.