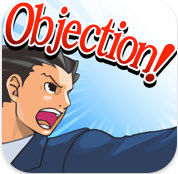 OBJECTION !!!!!!!
Buy Now :
Yes you heard it Capcom's Phoenix Wright has made its way over to the Apple iPhone for a crazy price of only $4.99 a fraction of the price you would be paying if you purchased the game on the Nintendo DS.
Having quickly played through a little of the game just before it seems as though Capcom have ported over the DS version with the same look and feel of the dual screens.  Playing the game will be quite similar as playing it on the Nintendo DS with the bottom part of the screen used for buttons and menu system as when you are in court or just investigating.   Everything seems to work quite well and the controls are very intuitive and easy to use with your finger.
As we all know Mr Wright is always fun to play, the game is an adventure where you traverse through court rooms and crime scenes as you collect the much needed information to win your case.  Collecting evidence is key and you will need to be on your toes and very alert when gathering the evidence you need and presenting it court.  There are a total of Five cases, same as the original and each case should take you a 1 to 2 hours to complete.  The speed of which you can complete the cases is totally up to you and how quickly you can read and gather and OBJECT your case in court.
For $4.99 this a CRAZY price complare to the original $49.99 on which the game was released on the Nintendo DS when it first came out.  If you have this title already and would like to Phoenix Wright with you anywhere you go.  $4.99 is a BARGAIN !!
Pick it up now and OBJECT to anything and everyone anywhere you go, just don't scare the little old lady that's sitting next to you on the bus when you do it 😉