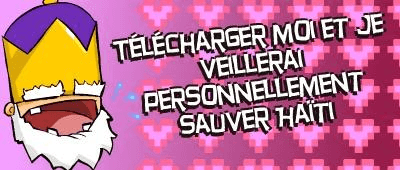 –
This just in from the Mayor of Behemothtown !!
Dear friends,
For the next few days (Wednesday January 20th to Sunday, January 24th) we are going to help with disaster relief in Haiti by donating 100% of proceeds from all DLC sales for Castle Crashers or Alien Hominid HD on XBLA. In addition, The Behemoth employees as a group have pledged to match the amount raised through dlc sales. All money raised will be donated to American Red Cross Haiti Relief and Development.
For more information please see our development blog and the attached press release.
–
Now anyone that doesn't have either of these two amazing games.  This your chance to have your cake and eat it too !! mmmmm did someone say cake .. ?? … ANYWAY download and help the earthquake victims in Haiti !! My hat goes off to everyone at The Behemoth for doing such a great and noble thing.
–