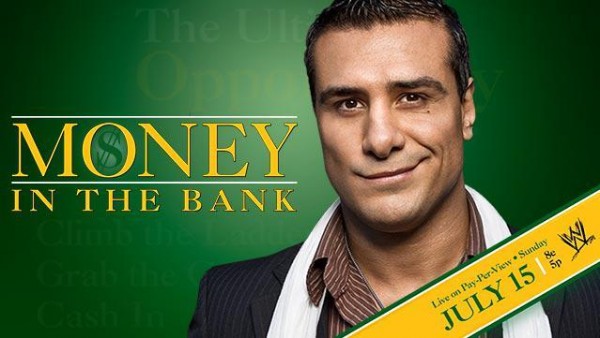 Money in the Bank
Company: World Wrestling Entertainment
Location: Phoenix Arizona
Arena: US Airways Center
Date: July 15, 2012
Price: $54.95 Order Here
*All photographs featured in this article are a property of World Wrestling Entertainment and can be found on their official site.
Overview
The 3rd annual Money In the Bank WWE's 6th Pay Per View of the year and some superstars had a lot to prove at this event. Who came out on top? Did John Cena stop the Big Show? Do we have new WWE and World Heavyweight Champions?  Let's find out.
World Heavyweight Championship Money in the Bank Match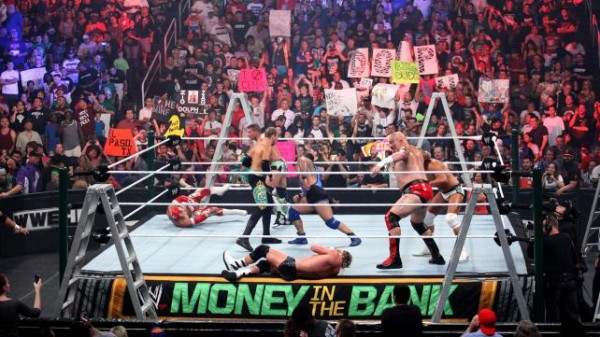 For a match with 8 superstars there was way too many one on one confrontations. With 8 people I was expecting a lot of multi-man action, and sadly that just didn't happen in what could have been a greater match. That being said there was a lot of good moments in the match, and on two occasions it looked like Dolph Ziggler had a broken neck. Surprisingly, Christian pulled off a lot of high impact moves, which is something I was expecting Tyson Kidd to do.  Cody Rhodes took out Tensai with two disaster kicks, and then we seen some more back and forth in-between with the other superstars. In the end however, Ziggler willed himself to a well deserved victory.
Overall 3.5/5
World Heavyweight Championship Match – Alberto Del Rio vs Sheamus(c)
The match was pretty good, but there was one problem the entire match, and it's my biggest pet peeve in wrestling – when one when one competitor completely dominates a match, and the competitor that has been dominated does 2 moves and wins. Alberto Del Rio completely dominated Sheamus. Even when Sheamus tried to make a comeback, Del Rio would shut him down.
After a lot of back and forth action, Sheamus ducked the enziguri, which was the beginning of the end for Del Rio as Sheamus would pull off White Noise and then a Brogue Kick to pick up the win. After the match, Ziggler would attempt to cash in his Money in the Bank contracted on a downed Sheamus. Del Rio would have none of it though, distracted Ziggler long enough for Sheamus to deliver a Brogue Kick to the Show Off.
Overall 2.5/5
Tag team Match –  The Prime Time Players with AW vs Prime and Epico with Rosa Mendez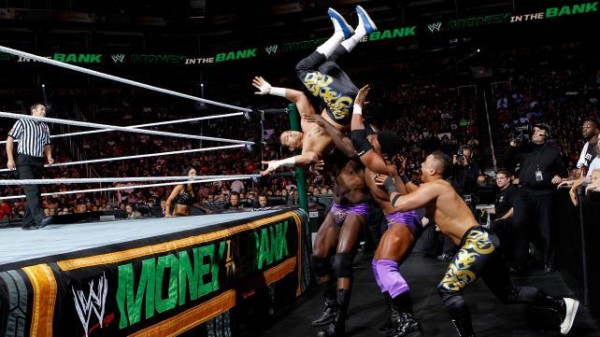 Unadvertised matches need to stop airing on Pay Per Views; especially meaningless pieces of trash like this. The crowd was not into this match whatsoever, neither was I for that matter. I could care less for these 6 individuals.
The match itself was pretty bland. To make matters worse, A.W. was on commentary and threw out a lot of racist comments against Primo and Epico, which is bad considering A.W. is a walking stereotype. In the end, Primo and Epico picked up the win. A.W. tried to pick a fight with Kofi and R-Truth – who were also on commentary, leading R-Trruth to throw water on A.W. All in all, this was your typical filler affair that would have served well enough on Smackdown.
Overall  1/5
No disqualification Special Guest Referee match for WWE Championship Daniel Bryan vs CM Punk(c) A.J. as referee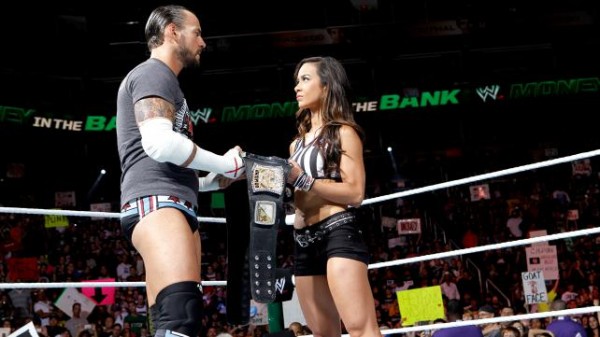 The Best match on the entire card, hands down. This match was great because it was unpredictable – you were never sure who was going to win, or if A.J. was going to call it right down the middle. In the end, A.J. just let these two go at each other. Punk and Bryan had a lot of back and forth. Punk went to introduce a table, but Bryan answered with a kendo stick. A.J. was even taken out of the match at one point, but later came back in, and introduced a steel chair into the match.
A.J. would even stop Punk from throwing Bryan into the chair, and stopped Bryan from using the kendo stick on Punk. Punk did bring in the table, and ended up putting Bryan through to pick up the victory. After the match was over, Punk ignored A.J., and looked out at the crowd. Meanwhile A.J. wouldn't take her eyes off Punk.
Overall 4/5
2 on 1 Handicap Match – Ryback vs Curt Hawkins and Tyler Reks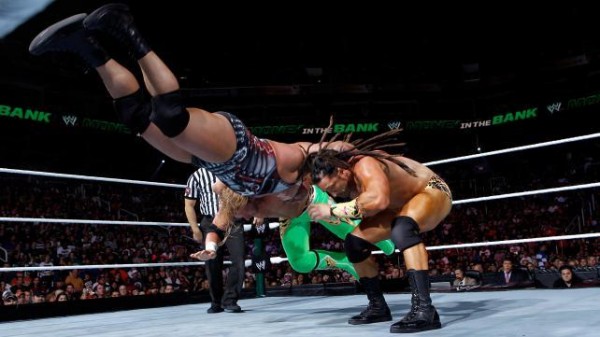 Ryback has been very impressive and it is great that he is now fighting people on the roster instead of wrestlers on the independents. Ryback was pretty dominate throughout the match, but Hawkins and Reks did give Ryback a fight, which was nice for a change. They  managed to cover Ryback several times in the match, but in the end Ryback would deliver 2 powerbombs to Hawkins, and then hit Reks with the Shell Shocked to pick up the win.
Overall 3/5
6 Diva Tag Match – Diva Champion Layla, Tamina Snuka, and Katelyin vs Beth Phoenix, Eve, and Natalya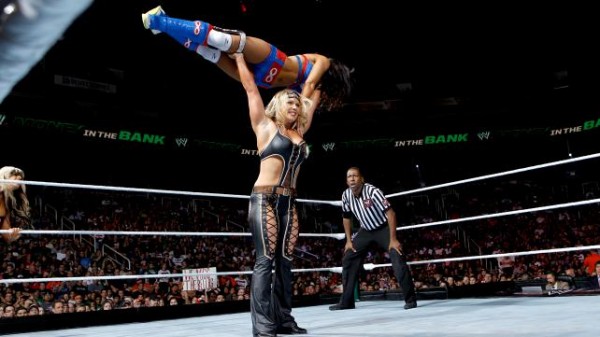 Yet another useless match filled with people I don't care about. WWE hasn't treated the divas with any respect since Trish Stratus and Mickie James left the company, and like all of the Diva matches since – this too was an abomination. The match involved Eve, Beth Phoenix, Natalya against Layla, Tamina Snuka, and Katelyn (who I have never heard of). The match was 5 minutes and ended with the Layla picking up the win against Beth Phoenix with a neck breaker after Tamina hit Beth with a super kick.
Overall 1/5
WWE Championship Money in the Bank Match
Earlier in the evening the Miz returned. Miz told the crowd where he was for the last 2 months,  and he was getting some big pops. Miz then annonced that he was going to be in the Money in the Bank Match. This Money in the bank match had a lot less high impact moves, but did have a lot more multi-man confrontations. Unfortunately, this Money in the Bank match was not as good as the one that started off the show.
There was an interesting spot where Cena sent Big Show through the Spanish announce table as well as when the remaining participants buried Big Show under a ton on ladders. During this bout, no one looked like they were to win more then Jericho, as he had the most chances of getting the briefcase. The Big show did return, and after clearing the ring of his opponents he then proceeded to rip ladders in half and then get his own special ladder. The biggest problem here is that Cole, Booker T, and Jerry all acted like they had never seen the ladder before, and asked how heavy it was. To answer that question the Big Show's ladder is 350 pounds.
After Big Show set up the ladder he would start to climb it, but got knocked off by Jericho. Jericho would then have the best opportunity to capture the briefcase as all his opponents were down. After a battle with John Cena on the Ladder, Jericho was punched off by Big Show  John Cena would get back up and use the briefcase to block the WMD, and would win the match. Cena then knocked Show down and celebrated to close the show.
 Overall 2/5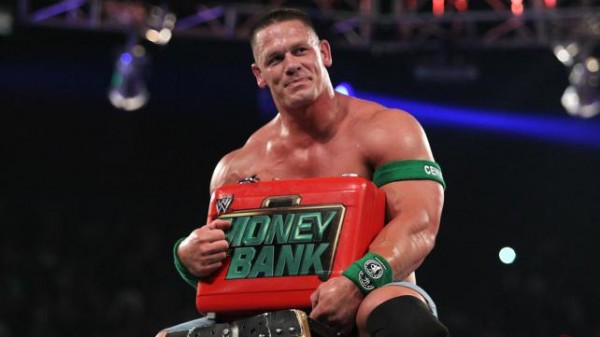 Overall Money in the bank was an alright show. Not the worst wrestling Pay Per View of the year, but currently not the best.  It certainly doesn't warrant catching the replay. With the 1000th Episode of Raw around the corner, and with Summerslam month away, hopefully WWE will be able to turn it around in terms of excitement.