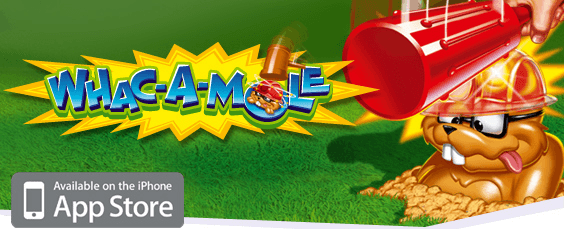 Whack-A-Mole
Platform: iPhone (reviewed)
Developer:Kiloo
Release Date: September 18, 2009
Stressed, angry, want to vent out your frustration.. Well look no further !! You have come to the right place.  Whack-A-Mole by Kiloo studios is just what you need release all that anger.  Grab a mallet, a baseball bat or even better the SPIKED CLUB OF MOLE-O-STATION and whack to your heart's content.  These furry little moles will be more than happy to accommodate your whacking urges.  With 4 different game modes and 3 levels of difficulty (I'd recommend EASY so you can WHACK EVEN HARDER) You can't go wrong with Whack-A-Mole.  Download your copy now and start WHACKING anytime you feel the urge !!
GOTTA BASH'EM ALL ….. HARD !!!!
Join the brutally whacking fun in this classic game ! The infestation of the really, really annoying moles has reaches alarming heights.
Help the world get rid of the moles by repeatedly bashing them on the head with a variety of sophisticated Anti Mole Weaponry
Mole Whacking Features :
* Upgrade your trusty Mobile-Mole-Mallet to the deadly Spiked Club of Mole-O-Station or the Baseball Bat of Mole Brutality.
* 4 different game modes to spice up your bashing experience
* Mini games to earn the upgrades
* Fast fingered official whack Action !!
* 1,000,000,000 really, really annoying moles !! (That's over 9000)
Check out Capsule Computers game video for Whack-A-Mole, going through all the 4 different modes, mini games and power ups.
[pro-player width='530′ height='253′ type='video']http://www.youtube.com/watch?v=rhovm3IejB0[/pro-player]
Whack – A – Mole is available on the App Store for the low price of :  $1.99 US ($2.49 AU)