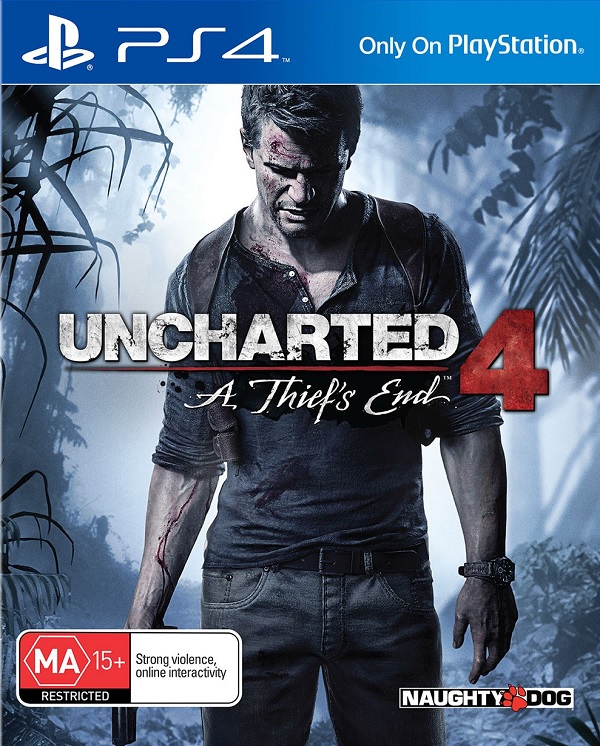 Uncharted 4: A Thief's End
Developer: Naughty Dog
Publisher: Sony
Platform: PlayStation 4
Release Date: Available Now
Price: $59.99 US – Available Here $99.95 AUS – Available Here
Overview

Naughty Dog has earned an incredible reputation for their titles and over the years they have continued to impress even after moving away from their colorful platforming beginnings to realistic looking shooters. Perhaps their biggest success came in the form of the Uncharted series and after spending five years away and taking time to work on another critically acclaimed title, the company is back one more time to bring Nathan Drake's journey to a close in Uncharted 4: A Thief's End.
Story

The story begins some years after the events that played out in Uncharted 3 and Nathan Drake has chosen to retire from his life of shooting mercenaries and hunting down ancient treasures in order to treasure the life he has begun to build with Elena. Working now as a man who stamps forms and occasionally salvaging cargo through legitimate means, Drake has hung up his guns.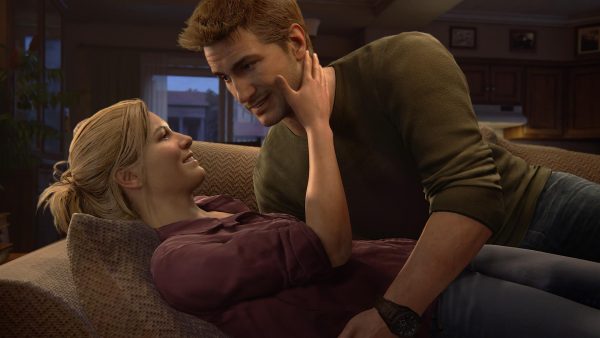 Even after being offered a somewhat shady job in Malaysia by his boss, Drake turns it down and returns home where players will find numerous callbacks to events and treasures that have appeared over the series so far as Drake and Elena's home contains numerous pictures and artifacts that can be examined. Unfortunately even though he may want out of the game, a blast from Drake's past shows up in the form of his brother Sam.
Despite never mentioning the existence of Sam throughout the series, players learn rather early that fifteen years ago Nathan and Sam were attempting to track down the immense treasure of an infamous pirate named Henry Avery and after winding up with only a clue to another location; Sam is shot and thought dead while Nathan escapes. Sam's survival was hidden by corrupt officials and now he is in trouble with Nathan being the only one who can help his brother out. After lying to Elena that he is traveling to Malaysia for the job his boss talked about, Nathan joins with Sam as well as Sully for one last job.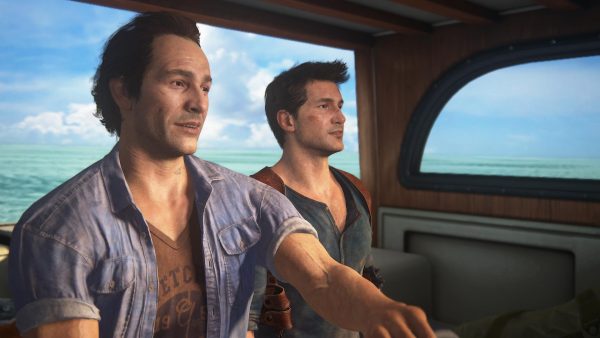 The storyline in Uncharted 4: A Thief's End may bring Nathan back into the adventurer's life; it is quite evident throughout the story that he is extremely hesitant to return. Not only does the majority of the first part of the game feature little gunplay on Nathan's part, but the overall story focuses heavily on the relationships between Nathan, his wife Elena, and Sam. Throughout the game players will be listening to the banter between Nathan and Sam and learn about how close these two were before being separated while Elena's role is to pull at the heart strings of players as she serves as the more grounded and emotional aspect of the story, creating a dynamic between characters in an action game that is rarely seen.
This creates an excellent character driven story for our main characters but unfortunately the antagonists this time around are less than inspired. While I will avoid going too far into their reasoning, it is incredibly simplistic and even their presence in the game feels like a way to simply force Nathan and Sam to keep moving along on their mission. This does lead to a few unsatisfying confrontations primarily due to the fact that these foes aren't quite up to snuff with what fans are used to when it comes to Drake's enemies.
Gameplay

In many ways Uncharted 4: A Thief's End plays similar to the earlier games in the series as players will still make use of cover to take down their foes with plenty of gunfights throughout the game. Nathan can hide around walls, climb up ledges for an advantage, and all of the series staples but a few additions to the game help expand the combat and add some fresh variety. The first of these comes in the form of a grappling hook that not only allows for players to move fluidly through a combat zone but even perform some stunning take downs by swinging around and taking down an enemy, though attempting these stylish take downs generally leaves you open for payback from enemy gunfire.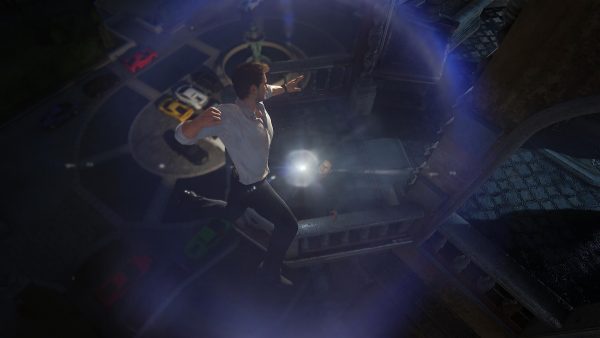 Those who wish to avoid going in guns blazing now have the option to. While there are still numerous areas that Drake has no option to shoot his way out of, the larger areas of Uncharted 4: A Thief's End and a new stealth mechanic allows for some confrontations to be avoided. Enemies will no longer automatically know Nathan's location and will need to keep an eye on him to actually track him down. This means players can stealthily eliminate a few enemies, take cover and move elsewhere to either avoid the rest of the fight or gain an advantage by sneak attacking once again.
Uncharted 4: A Thief's End mixes up slower paced scenes featuring exploration and character moments with the aforementioned action sequences and finds a satisfying balance that very few action games can. That being said, there are still a number of puzzles implemented into the game that could have been a nice addition if they were more complicated but instead these puzzles are as mundane as they come.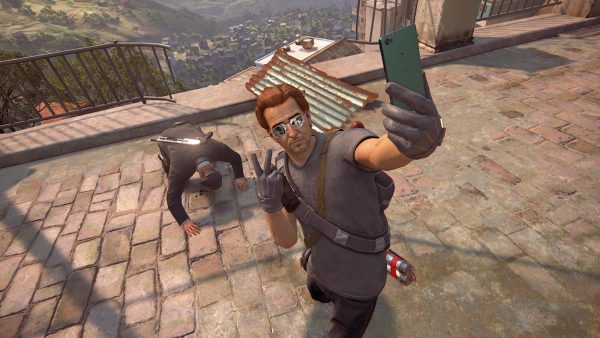 Players will generally need to simply slide platforms around or tackle other simplistic puzzles that tend to drag down the almost perfect pace of the game. Thankfully these issues don't do too much harm to the overall story aspect of the game and almost every chapter will leave players astonished in some form, even the slower paced ones.
Outside of the memorable single player, Uncharted 4: A Thief's End also features a multiplayer component that is slightly less so. Players will find three different game modes to take advantage of, Plunder, Command, and the standard Team Deathmatch with the first two being teams attempting to capture treasure on a map and the other protecting a special team mate while taking over points on the map. There is quite a bit of customization available for those who wish to delve into this mode but for the most part the multiplayer is fairly simple for this style of game and with only eight maps available at launch it quickly becomes repetitive.
Visuals & Audio

There are certain games that have been described as titles that have been described as examples of what this current generation of consoles are capable of but it seems like Uncharted 4: A Thief's End is has set the bar with what the PlayStation 4 is capable of. While another steam-punk third person shooter might have looked incredible, it lacked the inspiration and sheer style that Uncharted 4: A Thief's End manages to deliver.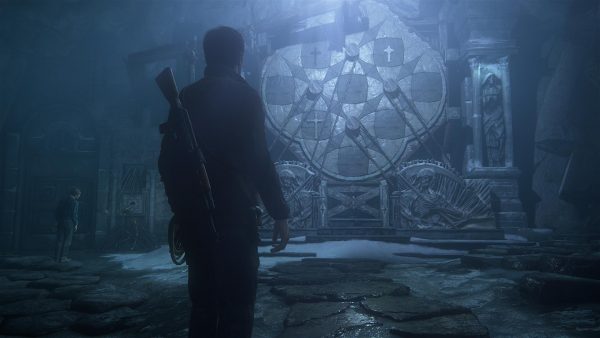 The levels players will be exploring are incredible in scale and the locales are mixed up enough to keep things feeling fresh while the character models are incredibly well designed with such fluid animations that those who simply give it a glance may mistake a cut scene as appearing to be live-action rather than something that was created in a video game. This incredible attention to detail really pays off during intense action sequences that occur very often in this game and are sure to get your adrenaline pumping.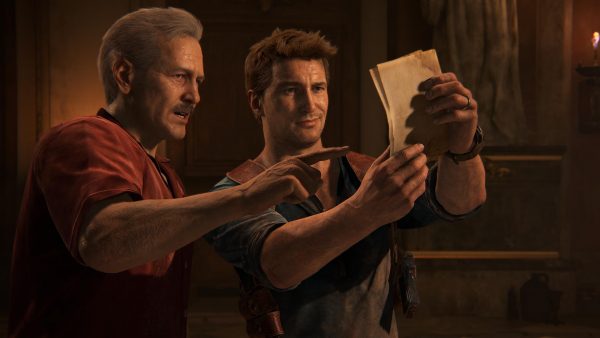 The well-written dialogue throughout Uncharted 4: A Thief's End is supported by some very strong voice work provided by actors that fans have grown familiar with over the years. Various jokes made throughout the exploration are perfectly timed while the emotional moments that come from examining Nathan's life and his relationship with Elena really hit home thanks to how well their characters are performed, with Emily Rose (as Elena) perhaps delivering the best performance in the entire game.
Overall
Uncharted 4: A Thief's End manages to deliver on nearly every front that fans could ask for. Not only does it tell an incredible storyline that brings with it a satisfying conclusion to the story but it manages to do so by delivering gorgeous looking level and character designs and excellent gunplay with a few new mechanics to change things up just enough to keep things fresh without losing the feel of what made the series so memorable. Uncharted 4: A Thief's End is easily a must have game and serves as a truly great end to this thief's story.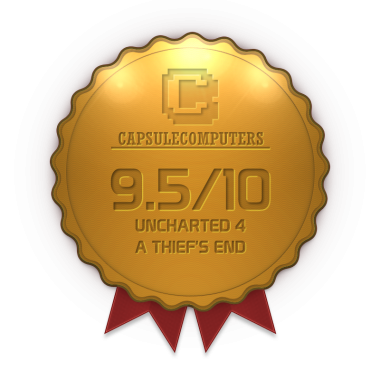 Capsule Computers review guidelines can be found here.